13 aprile 1945 - Baltimore Nr. FW740 - Bando di Argenta (FE)
Operation Records Book 454 Squadron RAAF (RAF Form 541): Cesenatico April 13th - Baltimore FW740 - W/O C. Evans, W/O J. O'Keefe, F/O E. Johnston, W/O E. Murphy. - Up 21.40 Missing - To recce roads between SESTO IMOLESE, MEDICINA, CESTENASO, BUDRIA, MOLINELLA, PORTOMAGGIORE, ARGENTA. Aircraft FW716 and FW740 failed to return from this operations.
http://www.joebaugher.com/usaf_serials/usafserials.html: Martin A-30A-10-MA 43-8897 to RAF as Baltimore V FW740. Missing from night interdiction mission over Po crossing, Italy Apr 12, 1945.
Il Baltimore fu centrato da flak e precipitò presso Bando di Argenta. In data 13 luglio 1945 un search party condotto dal cappellano militare australiano Padre McKey trovò il luogo della sciagura e raccolse i corpi dei 4 aviatori deceduti, che furono sepolti all'Argenta Gap War Cemetery.
National Archives of Australia: JULY 13 FULL REPORT NOW RECEIVED REGARDIN DISCOVERY AIRCRAFT (.) AIRCRAFT IDENTIFIED AS FW740 (.) TOTAL 4 BODIES RECOVERED FOUND IN WRECKAGE (.) AUS421797 W/0 CW EVANS AUS427723 W/O O'KEEFE IDENTIFIED AS PREVIOUSLY STATED (.) 1 REMAINING BODY HAS NAME MURPHEY OM NECK OF FLYING SUIT OTHER BODY BADLY BURNED NO IDENTIFICATION (.) AUS425721 W/0 MURPHY E.G. AUS412316 F/O JOHNSON E BOTH RECLASSIFIED KILLED (.) BURIED ARGENTA GAP CEMETERY ARGENTA GRAVES A-F-15 AND A-F-16 RESPECTIVELY (.) WILL ARRANGE FOR GRAVE TO BE CORRECTLY REGISTERED (.)
Approfondimento su
aircrewremembered.com
.
L'operazione di ricerca di Padre McKay e la cerimonia funebre fu documentata da una serie di scatti del fotografo di guerra Laurence Craddock Le Guay conservati all'Australian War Memorial.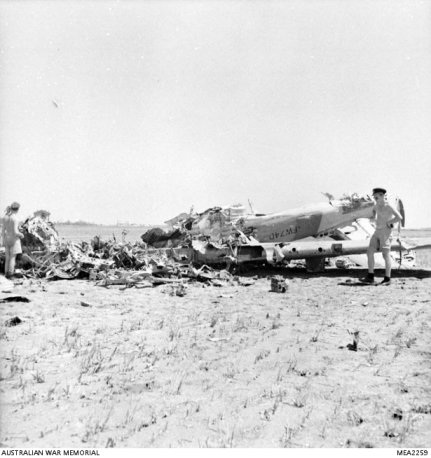 Italy. c. April 1945. A crashed Martin Baltimore aircraft now identified as the aircraft captained by 421797 Warrant Officer C. Evans of No. 454 Squadron RAAF. It was shot down by enemy fire at night on 12 or 13 April 1945.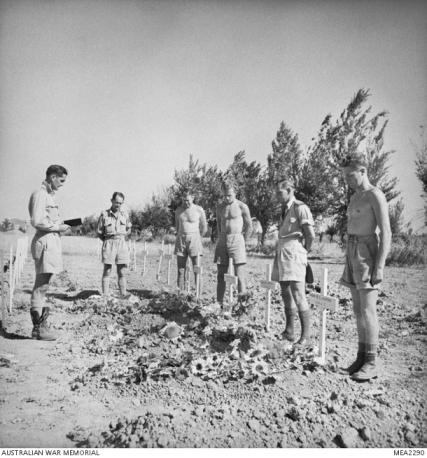 Argenta Gap Cemetery, Italy. c. 1945. Padre Fred McKay conducts a service at the grave sides of RAAF airmen who lost their lives on 12 April 1945. They were: Warrant Officer (WO) J. O'Keefe; WO C. Evans; WO E. Murphy; and Flying Officer E. Johnstone.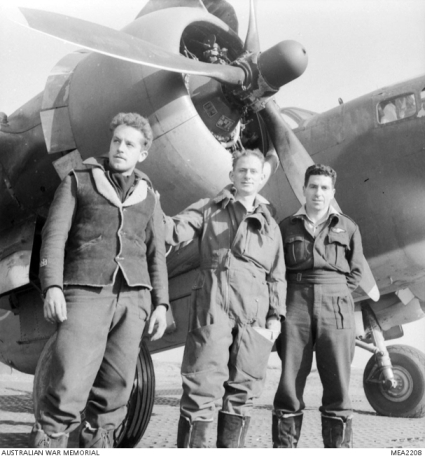 Group portrait of three members of the crew of No. 454 Squadron RAAF, operating in Italy in close support of the Eighth Army, beside their Baltimore aircraft. Left to right: 425721 Warrant Officer (WO) Edwin George Murphy of Maryborough Qld; 421797 WO Colin Ware Evans of Canberra ACT ; 427723 WO John Harris O'Keefe of Boulder, WA. All of the above crew were lost on operations over Italy on 12 April 1945.